I know it has been a long time since our last update, but here goes.
There's probably an endless list of reasons why travelling Italy by motorcycle should be on any persons bucket list. For good measure I will list just five reasons.
We could not in our wildest dreams imagine the variety, cultural diversity and beauty of Italy. One great experience seduces you into the next with a bit of a feeling that resembles Alexithymia.
One:
Nothing much beats roadside lunches and wild camping where possible, with a bottle or two of Italy's finest 2 Euro wines bought from local shops. There are obviously much better quality wines that does not cost an arm and a leg. We found the cheapies very pleasant with a fruity bouquet and easy on the pallet. I am just talking rubbish, I know bugger all about wine tasting! It's good wine and will get you drunk quite quick. Add some cheese, fresh bread with olive oil and all is well in the world.
Enjoying views and the breathtaking sunsets over Tuscany while sitting outside a tent is the only way – not from inside a stuffy hotel room.
Coming from Napoli into Rome we stayed with Andrea and his son Massimo in their cool apartment close to the centre of town. Andreas went to great lengths updating us on the places to see, routes to take and places to avoid. The evenings spent with him and his son were great fun.
When visiting Rome it is better to stay on the outskirts where locals reside and visit their hang-out places in the evening. Rome itself is crazy busy with tourists right through the year.
With a vigorous and brisk walking pace the most popular part of Rome can be seen in 3 to 4 days. For somebody loving old churches and buildings, months would be needed to really take in the beauty of Rome.
On this day the Pope gave a speech and told everybody to be good people and pay their tithe to the church. Click to open.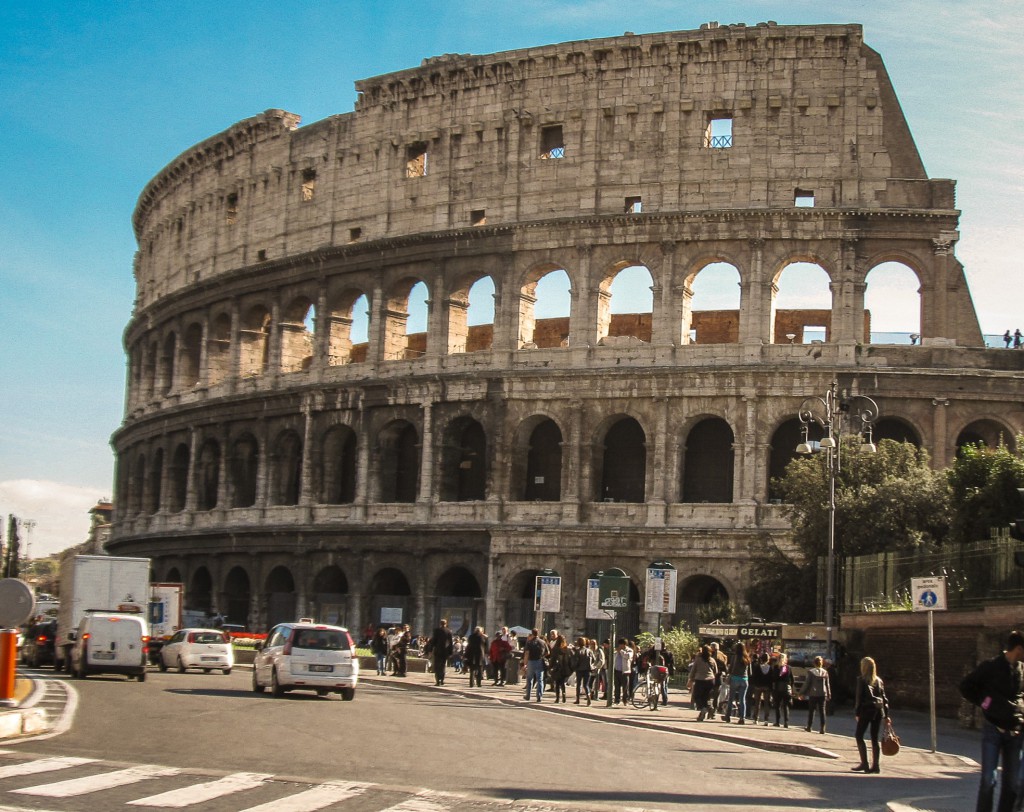 Two: Sharing Italy's biker's passion for riding and weaving through traffic in Rome and other Italian cities is a selcouth experience for people who normally avoid traffic and cities. The bike crazy Italians make space for motorcycles and allow scooters and bikers to freely flow through the congested streets. Being on a motorcycle makes sightseeing so much easier and parking is for free! Unlike the scary myths, riding in Rome is actually safer and easier than fighting Cairo or Nairobi traffic.
Having the motorcycles as transport is the absolute best way to explore cities. Easy to get around and never have to spend hours in a car or bus trying to fight traffic. We lock the helmets on the bike and only use a small backpack to carry the camera and a bottle of water.
The short rules for Italy….
If there's bread on the table do not eat it or you will pay a small amount of gold in ransom. Entrees and bottles of water is normally expensive and not freebies. Many restaurants out of the tourist area serve a set menu (menu fisso) and do not have choices of single serving dishes. It's really big meals and the need to sleep afterwards overwhelming. Outside seating at restaurants are normally charged at a small fee. Out of season most times they will not charge the fee. Out of tourist areas it's not an issue at all.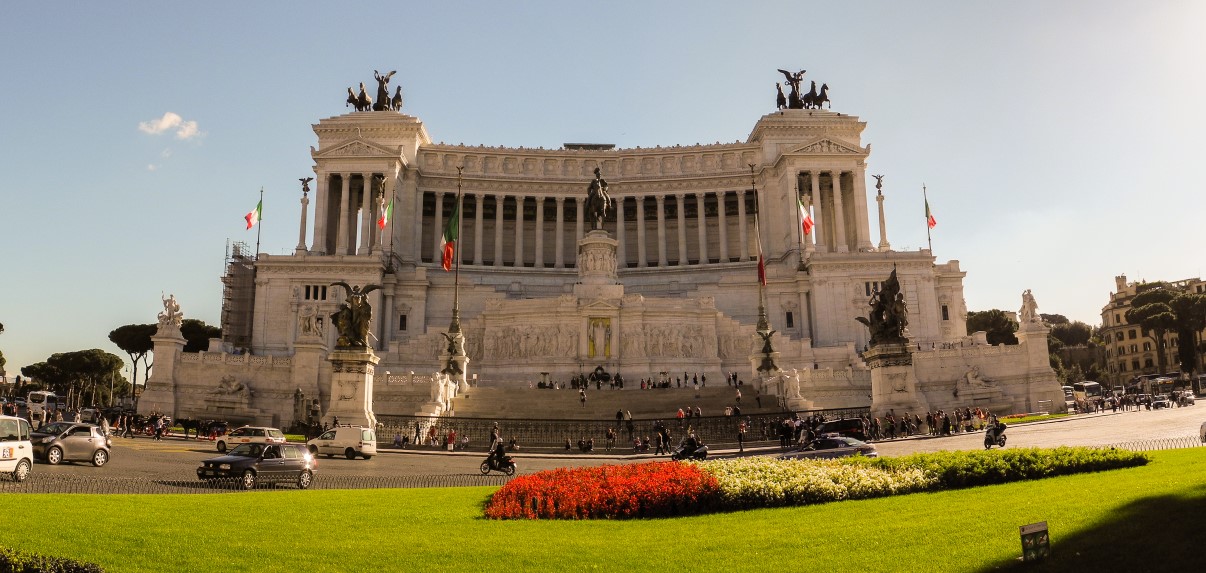 Stitched 8 photos to make this panorama. Click to open. Built more than 1800 years ago, the magnificent Pantheon still stands as a reminder of the great Roman Empire. The name Pantheon refers to the building's original function as a temple for all the gods.
Three:
Ride the back country roads. The inviting, easy going nature of Italians will quickly have you gorging on fresh toasted bread, drenched in proper, freshly pressed Olive oil. As usual, custom is washing it down with a shot of espresso. On a bike you are not a tourist but a traveller. Well, that's the impression we got.
The time and weather to camp and be in Italy was fast turning against us. We had no winter clothes and our tent and sleeping stuff was made for hot climates – not European winter. Andreas gave us directions to an olive farm on our way to Bologna. As always it is best to set the GPS to stay off highways and toll roads, and shorter distance not faster route. The imbecilic manner in which the GPS software calculates the route actually works well when wanting to stick to back roads and experience the local scenes.
Olive oil factory. Small farmers bring their olives to this factory for pressing.
On our way to Florence (or Firenze as more famously known) we pass the Hotel Passo della Futa high up on the Apennines midway between Bologna and Florence. Cyclists have used this road and bar for almost a century and the bar is decked with photos and memorabilia of the greatest cyclists of the post-war era, Fausto Coppi and Gino Bartali.
This is also the route taken by historic vehicles on the Mille Miglia rally in May every year, but not all of them made it to the top as it is a pretty tough climb, especially the hill climb from Florence.
Florence: È una bella città
Florence is one of Italy's most beautiful cities. It is also home to Michelangelo's David (a copy of which) is standing on a hill overlooking the city. It is the city of mile-high stilettos, the majestic Duomo and romantic red-tiled rooftops. The only issue is it's overrun with tourists.
View from the hill where the statue of David is overlooking Florence. click for bigger view
Florence's Duomo is among Italy's 'Big Three' with Pisa's Leaning Tower and Rome's Colosseum. Its red-tiled dome, graceful campanile (bell tower) and breathtaking pink, white and green marble facade is a sight to behold. Begun in 1296 by Sienese architect Arnolfo di Cambio, the cathedral took almost 150 years to complete.
The work and tiles on the building of Duomo is seriously impressive for such an old building.
Street vendors in Florence.
Get in and get out as soon as possible. Stunning winding roads and the multi colours of Tuscany around Florence with it's cheap red wines await. Chianti Classico is the regions best vineyards.
Moscato – local Italian wine. Enjoying the late afternoon sunset over Florence
Four:
Camping is the way to meet the real travellers and get up to date tips. Meeting new people in a hotel or B&B will likely not happen. People are more inclined to master up a chat with dirty faced bikers than trying to chat you up in a hotel. The same goes for us. It is easier to walk over to a man or woman sitting under their campervan awning and struck up a conversation than knocking on your neighbour's door in a hotel.
The best travel advice, routes, places to see and stay was through fellow travellers in campsites who were interested in our bikes and shared their knowledge. It's a good feeling to share your experiences with other travellers.
The city of Pisa is a short hop from Florence, Bologna and Tuscany. The small towns along the back roads in the region take you back in time. It is unbelievable that buildings can be this well looked after for such a long time.
It's beautifully relaxing riding the narrow back roads to Pisa. People go their way as if time stood still. It's 10ish in the morning while people spend time in small bars drinking Vino Novello chatting the time away. Some restaurants only offer set menus and it is impossible to order separate dishes.
It makes sense as it's small family owned restaurants and easier to make a set menu (menu fisso) than having a list of options. For us it is a problem as it's impossible to eat all that food and still have to ride.
The back road restaurants are where the passion for eating and lovely owners chat to us as if we are long lost family members coming home for a meal. We got offered desserts for free and were kissed and hugged as if we were close family. We could only spend a day in Pisa.
The same old town narrow streets with the small bars and street markets are all over. It is busy, really busy! We were lucky that it was out of season and cold. It was relatively easy going with no crowds. The Campo dei Miracoli or, in English, the Field of Miracles is home to the buildings that have made Pisa famous. The four most notable Pisan buildings are the Leaning Tower of Pisa, the Cathedral (Duomo) of Pisa, the Baptistery, and the burial grounds of the Campo Santo.
Worthwhile spending a day there and wait till evening until the hordes of tourists have left.
On route to Venice we stopped over in Bologna and Fiorana, the home of Italian auto porn. More of that here. If ever you visit Venice out of season you will dodge the festivals there. Even without the crowds and while we were there in early winter, it was still busy. It is a very romantic city but do not think you will spend time there or can even afford to eat there. It's damn expensive.
We had an espresso at the Piazza San Marco that were R180-00 for us both. It was Elsebie's birthday and we decided to splash a bit on wining and dining. Well the wine did not happen and the dine was a quick sandwich. We left the eating for the evening outside of Venice.
The island of Murano is a short hop with a water taxi. The glass workshops of Murano conjure writhing chandeliers, swirling goblets and gem-bright jewellery from their red-hot furnaces.
There are busses, trains and taxis going to Venice which makes it easy to visit during the day and staying for less in hotels outside in Mestre. While in Mestre and at a hotel it was time to wash the kit. It did not have any cleaning since Sudan. A few days' stay in hotels do have it's benefits.
The days were getting colder and we rode with lots of warm clothes and rain suits. Our last stay in the tent was the coldest we ever experienced while travelling. Lucky being out of season the hotel rooms were relatively inexpensive and we were able to book only a day in advance or at some places just pitch up without a booking. When in Italy, visiting Romeo and Juliet's home town is a must. Verona is a picturesque and romantic town with street vendors and beautiful old buildings. The Verona's Roman Arena is the third largest in Italy (after the Roman Colosseum and the arena in Capua).
Verona claims to have more Roman ruins than any Italian city other than Rome. Sauntering along one of Verona's most famous shopping streets, the Corso Porta Borsari, the locals hardly seem to notice the magnificent, exceptionally well-preserved Roman gate as they pass under its great arches.
Five:
Roads made for motorcycles! Italy is small but it boosts some of the best motorcycle riding roads in the world. With the Italians being such passionate bikers they will be quick to show and tell about their favourite scenic routes. From along the huge cliffs of the Amalfi coast to the towering passes in the Alps, no car or bus or any other mode of transport would be able to punch one in the face with such vigor and pure happiness that a bike can do.
The road over the Alps from Venice to Innsbruck is absolutely spectacular. We were warned not to spend too much time before heading over the Alps as it could snow and then we will be stuck in Italy.
Popular hang- out place in summer for bikers. Never ending twisties.
Italy is best taken slow with lots of time available for scenic drives, hanging out at local bars and the local foods. Camping is a blast and cheap with campsites in every town. Bread and a 2 Euro bottles of red wine is all you need!
Well there you have it. Only five reasons to get to Italy and enjoy it by motorcycle. There are loads more reasons but that's your own to find out.