How to choose the most suitable GPS navigation unit and associated products for your dual-sport adventures.
Selecting the best motorcycle GPS can be somewhat of a challenge due to the limitations of placement, touch screen, size, with more abuse and waterproof and dustproof properties as opposed to conventional GPS units.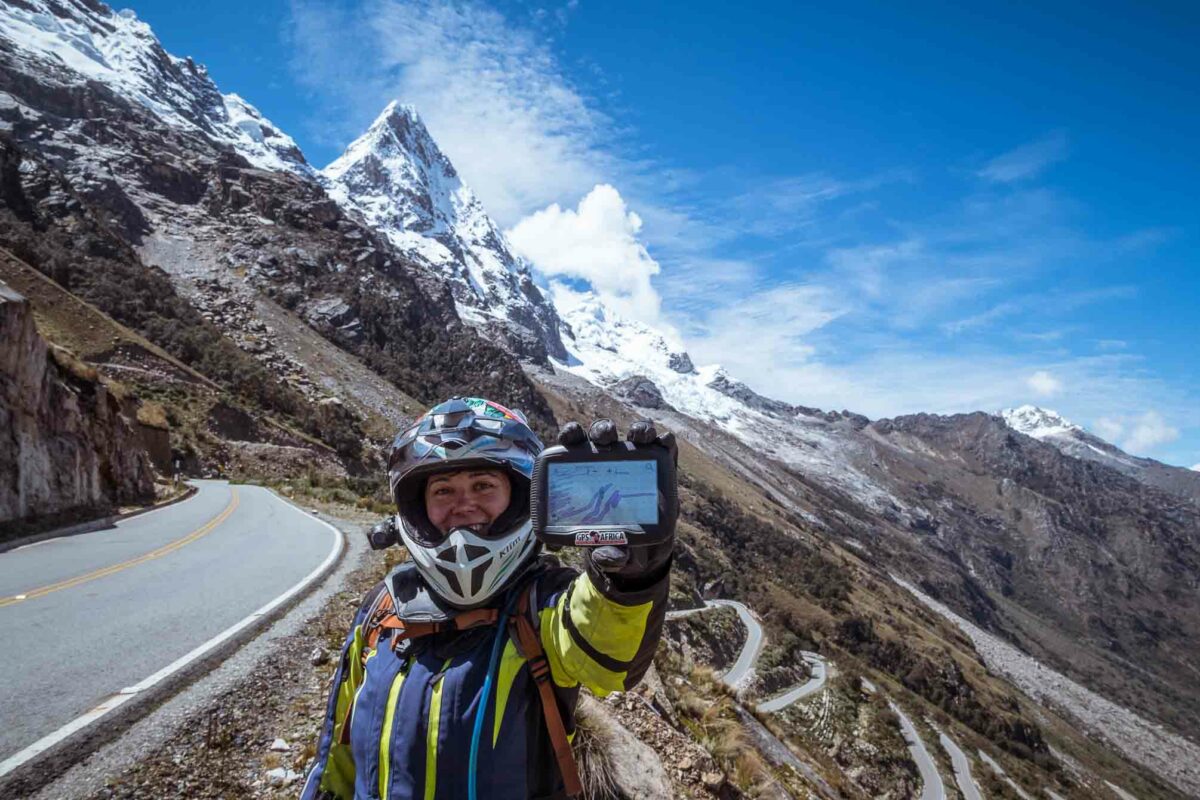 Then there are the map sets which can cost some money and the map software to learn. This article is not about which brand or unit or which brand is the best but to assist with some guidance when choosing a unit and all the mind-boggling amount of maps and map sets to choose.
Criteria when choosing your GPS unit:
Bluetooth: This is a very important function as it assists with voice prompts but in addition allows the user to listen to their favourite tunes
Rough and tough: Vibration, shock, the elements, dust, water and washboard roads in Africa are just some conditions can kill electronics and a motorcycle GPS must be able to handle such conditions.  they need to deal with. Antennas and their strength also differ from units.
Battery: Most motorcycle GPS batteries are rubbish and due to their high need for juice will never last more than an hour or so. It is a better option to use a GPS mount with an electrical connection to the GPS. That way it will always have power.
Installation: Some GPS units come standard with mounting brackets and points. RAM mounts and Touratech as example supply very cool mounts some lockable.
Map Features: How many tracks and waypoints can the unit store? Can you create tracks on the unit? Some of the better units even have a fuel range setting. How fast does the GPS load maps and respond to movement?
Ergonomics: Motorbike GPS's have come a long way. Bigger buttons to use with gloves, touch screens that function with gloves. Bigger interface to see the screen and glare reduction. Navigating must not be a dangerous activity while riding. 3D and High-resolution screens is a big help.
Mapping: Most GPS units come standard loaded with maps. It is also not a problem if you only ride in your own country. Other country map sets can cost a lot more.

For our friend Pauli at GPS4Africa. Let your GPS route you on some exotic roads and magnificent places.

Then there's also Tracks4Africa and OpenSource maps. Have a look at the Maps software like Garmin Basecamp for being user-friendly to make tracks and routes. Tips for devices to create tracks and routing.

Voice guidance: This is a very cool and safe feature for motorcycle navigation as it can be difficult to read a map while riding. The friendly voice of the lady will talk you to your destination through the Bluetooth headset.
Memory: It can be in form of cards, flash memory or hard drive. The hard drive is not ideal because it is sensitive to vibrations. As for the card, it should have enough memory to store the necessary information.
Price: Motorcycle GPS devices are more expensive than car models. With the use of Smartphones and waterproof pouches, it is also possible to use them for navigation. But..be warned they are not designed or made with adventure in mind.
Usability car or motorcycle: When you have a car and a motorcycle, is it possible to use the same GPS for both? Well here is the kicker, with the Zumo you can use your GPS on the bike or in the car with the mounts supplied. Thus saving having to buy a GPS solely for car use.

Hiking/Biking & Offroad use:

 The bigger units from Garmin and TomTom are not really suitable for very rough enduro use or hiking due to their poor battery power. The smaller units like the Montana series from Garmin can be considered for that use. That said, we have navigated Addis Abba on foot with the Zumo 660 and used it on an enduro bike.
Waterproof & Dust proof: Driving rain at 120km/h will get into anything not properly sealed. The Zumo 660, for example, is rated IPX67.
Mapset options & Free mapsets:
If you are in the USA or planning to ride the USA. The absolute best maps are the Butler maps. They are created with motorcyclist in mind and especially
dual sport riders. These maps are waterproof and can take a beating being used on a bike.
Besides the maps that come standard with most GPS units, there are also other alternatives.
OSM – OpenSourceMaps; The Free Wiki World Map – An openly licensed map of the world being created by volunteers using local knowledge, GPS tracks and donated sources. Free maps for Garmin units. Also, http://www.mapmania.info/ and https://www.openmapchest.org/ maps offer maps for Garmin devices.
Tracks for Africa: Tracks and POI for use in Africa. I am not aware of any similar mapsets for any other continent, but Tracks4Africa is the most comprehensive info sets for overlanders for Africa. Basically, if you travel Africa get this mapsets with POI. These mapsets are comprehensive for travel use and overlanding. They also now supply maps.Tracks4Africa 
Maps-GPS-Info offer loads of mapsets and other maps for free. It is basic but it works.
Manage maps:
JaVaWa device manager is a Dutch developed app that helps you load and manage maps on your GPS device. It is simple to use and works perfectly with Windows machines. There are other useful features on their site to use.
Smartphone off-line maps, applications & POI.
You don't need to leave your phone at home. There are a lot of limitations to smartphones when not able to access the net and their finicky build for adventure.
Your smartphone can still be an invaluable helpful tool for the info, serving as a pocket-sized travel guide, phrasebook, eReader, and music player, camera, video camera, torch and even a beer guide but best of all as a GPS navigation device. Smartphones can be a huge asset on cross-border or international trips.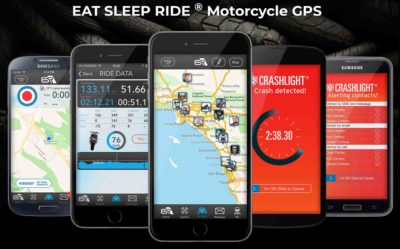 There are a few options as apps to search for places to stay and maps. IOverlander is a POI app with loads of places to stay, whether wild camp or formal camping and comments. REVER and Tracks4Africa Guide app both on Apple and Android app store. Tracks4Africa though also have POI on their app. Another tracking app worth considering is EatSleepRide which is also a tracking app but with places to sleep and eat and crash detection.
BackCountryDiscoveryRoutes are a non profit initiate that allows people in different parts of the USA to download 
dual sport tracks in some states. 
These mapsets can be accessed offline. 
Look for OSM-OpensourceMaps on Playstore or internet. Africa offline maps also on Playstore.
Google Maps. Though most mobile platforms can use Google Maps, only Android users can use it offline by choosing portions of the map to download and store locally. Maps will stay in memory for 30 days.
With My Maps in Google it is also possible to create a route quite accurately and then export as a .KLM file and use http://kml2gpx.com/ to convert to a .GPX to be used on a GPS.
MapsWithMe. This app will download maps — including information about local businesses. The light version on Playstore is free. MAPS.ME 
Excellent source of information is: WikiOverland From WikiOverland, the encyclopedia of Overland travel
How to look for those out of the way tracks?
Twelve, fifteen years ago the best way to get out of the way routes were to actually get to a place and talk to people. Which in itself was not always the best way as people in rural outback areas do not have up to date info on road conditions. There were Michelin maps and info from people like a local friend of ours, Neil who as a 25-year-old got a job in Angola to go map everything that looked like a road with an old Land Cruiser.
Still, to this day there are so many out of the way dirt tracks being used in many countries it will take ages to explore. Namibia and places like Guatemala have on average still 80% dirt roads. When we started in 1994 touring Namibia we used contoured maps, road maps, and local people's knowledge for our trip.
Today we have incredible tech stuff to help find those out of the way roads. Our current modus operandi is to use Google maps and Google earth to do preliminary research. But there are places like Lake Turkana in Kenya where Google maps show no tracks. Google maps switch between road, satellite view to see if bridges and roads actually exist.  Don't blindly trust Google maps.
Then with that, we use MAPS.ME as back up as they sometimes have tracks and roads mapped that Google does not have. They are supported by OSM Open Source Maps – https://www.openstreetmap.org/
In addition, the website dangerousroads.org offers some great options to explore with detail information. In Africa, for we use https://tracks4africa.co.za/ which was started years ago by travellers sending tracks and POI's to a dear friend Wouter and he made it into a map set that could be used on normal GPS's. That map-sets today covers entire Africa with some of the best routes available for overlanders and Advriders.
One of the best ways is to hook up with locals in countries, but locals that actually know their stuff. In Colombia, we met Andres aka https://a2ruedasco.wordpress.com/ a local adventure rider addict with a wealth of information, tips and tracks. In Ecuador we met a local motorcycle tour group in a remote area of the Amazon at a restaurant by accident. Davo aka https://ecuadorbikerental.com/ was kind enough to share with us in a short hour some of the best routes in and around Ecuador. And tour operators normally won't do that, they keep the best for themselves.
But the moral of the story is that locals have a treasure chest overloading with local information to be used. Maybe it is also a good thing not to share tracks, let people put in some effort to research a place rather than just piggybacking on other peoples rides.
Personal Trackers:
Personal GPS trackers have evolved to be thinner, cheaper, and more useful for outdoor activity and travel these days. They offer users the peace of mind to be able to send text messages and alerts to family members or rescue teams if and when things go bad. They are really useful tools for overlanders and travellers.
Please be sure to check on the cost of ownership and fine print of each product. There are monthly subscriptions with both devices but the terms may vary. Also, make sure to familiarise yourself with the global coverage each of the products offers.
Also important is the service and back-up from these companies. Make sure to read up on as many reviews as possible.
The two most popular for motorcycle use are the SPOT GEN3 and Garmin In Reach mini both offers some excellent benefits but their payment options might not suit everybody.
Here is a super cool write up from Moto.Phil on how to integrate your SPOT device to Spot Walla.