How do you go about selecting the best motorcycle for long term travel or an extended round the world trip?
The motorcycles:
The best motorcycle for a long overland trip?
Probably always the one you have plus a healthy dose of adventure spirit.
Basically any dual purpose bike but depending on the terrain some motorcycles perform better than others with regards to suspension, carrying ability, reliability and cost of repairs and parts. As example riding Africa off-road is a whole different ball game than Cape to Cairo on tar. Having to carry a pillion limits choices and needs careful consideration on type of roads and weight. 
Your budget for a bike.
The route planning and what the motorbike can handle is very important.
Maintenance, reliability, and cost of parts.
Don't let people convince you otherwise, weight and size does matter. Lighter & smaller = better.
Ask yourself if you would be prepared to walk away from a mega $ bike if something serious happens that you have to leave the bike in a country. Accidents or instances like in Peru where you donate the bike to the state for a day over your visa.
Try and keep the ego in-check. Just wanting to look the part on the new BMW1250LC to impress people and hit the likes on Instagram is not a wise decision. It is your trip, your money, be sensible about the brand and bike.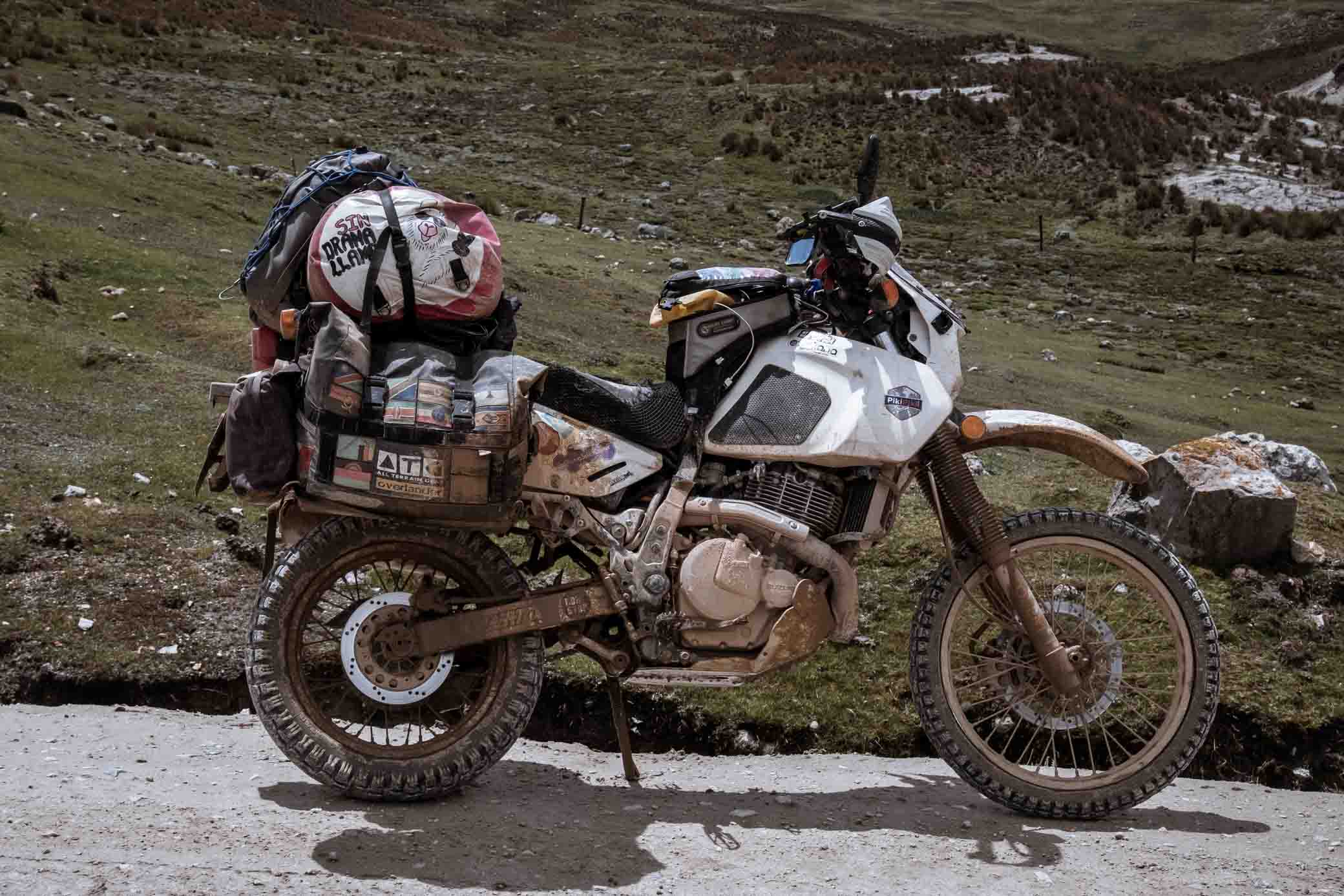 Many a gnarly adventurer would want to take a Chinese 250cc or smaller capacity scooters as weapon of choice just to try to save a bit of money or to proof a point. In the end a big part of their travel funds would be spent on repairs as the bike and suspension just can not handle the load and roads and was never designed for it. That's how dual sport bikes was born.
The alternative route would be the asphalt main roads which are as exciting as watching paint dry in their quest to spare the bike and body and due to lack of skills. That said there are many adventure seekers happily riding CRF250L Honda's around the world.
On the other hand buying into the bigger is better overweight block of flats with all the bling and pretty shiny stuff is also going to get you into trouble. You will quickly realise when cruising on your 1200GS you will not go into places as your bike and luggage is over 350kg and the dynamics of the trip suddenly are not what you imagined it to be.
The 450-650 range is a good Goldy locks ratio. Not too big and not too small. 
Remember, people have been riding long distances on motorcycles ever since they were invented and most on small size machines. Travelling minimalist takes some practice and planning but the sheer enjoyment of adventure riding is in the simplicity of it all.
450cc to 650cc size are about the best round the world long distance bikes. They are light, easy to handle and cheaper to maintain and run than litre bikes. Also the cost for shipping is cheaper than bigger bikes.
But then do you need a bike that can cruise at 150km/h when you are going around the world? Obviously not, so you don't need all those 1200cc's. The maintenance and upkeep cost are much higher than on smaller machines. The 200% Carnet you are expected to pay as guarantee to the AA for Egypt is a lot of money when wanting to use a new 1200 GS BMW, Yamaha or KTM1190.
Your bike will dictate where you go. Starting with a 200kg beast adding 30kg-45kg luggage and fuel most people will avoid trying to conquer rougher dirt track back roads as it can have dire consequences for bike and body. Using a smaller lighter motorbike makes venturing off the beaten track so much more rewarding.
We have experienced this first hand. Receiving messages on trails we have ridden for the tracks. When we later ask how it went all sorts of excuses were made why they did not even attempt to ride the routes.
Although the stretches sitting on tar/asphalt would test anyone's patience. Weight eventually trumps skill.  Even if you think you are a killer rider with über skills on loaded bike offroad will wear you down. Then try and pick it up a few times in a sand track. Consideration is key, travelling alone you do not want to get into places when and if you break a leg or your bike you can't help yourself. TR15A wrote a great article and Sibirskyextreme wrote excellent articles about using the heavies on a round the world trip. Also worth reading is their follow up articles which is more technical.
 SibirskyExtreme 2 Sibirskyextreme3
There's not that many choices of bikes in the 650cc class. The new BMW 800GS is a good alternative but heavier. The Yamaha 660 Tenere is still a great option bar it's over 200kg weight limit. The KLR, DR650's, Xr650L's, DRZ400e's all are good choices but with carburetors not as fuel-efficient and reliable as the Fuel Injection motorcycles. The 640 KTM was a great option except not being able to buy new anymore. The new Honda Africa Twin also did not cut it in the end and ended up following the heard of the heavy bikes.
It all boils down to your ability and skills, the terrain, the cost of shipping, repairs and budget. Do not let your ego and companies marketing hype over rule your common sense when making a decision to buy the correct bike. 
We owned the Dakar's and decided to use them. It is the Toyota choice of Overland vehicle, reliable but a bit boring. Our bikes did gave some problems with the water pump and we had a fuel pump die on us in Ethiopia.  Shipping parts is a costly affair and will always means an indefinite delay. The 40usd fuel pump in our country ended up costing 400usd by the time it reached Sudan. That was part why we chose to replace the Dakars for lighter, easier less costly bikes, – DR650's Choose a reliable bike with a good parts back up. 
First rule for companion travels is using the same bikes. Parts are interchangeable between the bikes and will aid with troubleshooting if a bike break down. It's common sense really.
Suspension:
The single most important parts on a motorcycle must surely be the suspension. Whatever money you have left after the bike spend it on the suspension. It is the most costly item that will stop your trip for you.
Suspension must carry the weight and deal with rubbish roads and then deal with braking and help not shake your filling out of your teeth. Most motorcycles standard OEM suspension are not designed for heavy loads and the demanding road surfaces on round the world trips. 
Hell, most are barely able to cope with potholed asphalt roads though KTM comes standard with some of the best OEM suspensions setups.
We had the original suspension refurbished in SA and they did not made it and then had to order new Ohlins in Kenya. Expensive lesson learnt.
Motorcycle suspension are quite expensive when compared to 4×4 suspension setups. The good brands like Cogent who supplies and build shocks for among other brand such as Suzuki DR650 and KLR650 are serviceable and generally more durable and better made and will last many thousands of miles.
Luggage options:
The safest option is to spend much more and buy aluminium boxes. In safe I mean security wise as for stealing stuff out of the panniers. Thing is, we do not do safe, the benefit of soft luggage for us outweigh the security benefit of metal panniers. This option is growing strongly in popularity. Motorcycle soft saddlebag are hard to beat when it comes to weight saving, cost and repairs.
Some pro's and con's :
Soft luggage are not as secure and theft proof as aluminium panniers. Only due to being able to lock. Products like Pacsafe Stainless steel net can solve that problem. To date after travelling Africa, Europe, America, Central America and part of South America for since 2010 we were lucky enough and had zero stolen off the bikes.  But that said, it's as easy to open a locked metal pannier with a screw driver.
Soft panniers cost much less than metal panniers. 

The pannier frames for soft saddlebags does not have to be as heavy and sturdy as for metal panniers, thus saving weight and can be repaired anywhere by anybody with a welder if need be. And soft luggage do not have that dubious reputation to cracking and breaking subframes

Some current day newly designed soft panniers can carry as much weight as metal panniers.
The cost to repair soft luggage is minimal compared to aluminium panniers.

Soft panniers can be repaired anywhere in the world. Metal panniers can only be welded or repaired by specialist for a proper fix. 

Overall weight is much less for soft luggage compared to hard panniers. 
Metal panniers has a reputation for breaking legs when adventuring into the rough or ploughing through sand. Aluminium panniers can damage and bend a motorcycle subframe in a fall. 

Soft panniers are more suited to single rider applications and for rougher terrain. 
Might be a bit of luck but we had no slashing of bags and theft from our bikes as so many warned us. The damage to the bags after a nice slide on a dirt road in Uganda was easy  and cheap to repair.  Overlander saddlebags-ATG
Wide mouth duffels:
This is one piece of luggage that is always used on bike trips. Good for weekend trips or long extended trips, basically one bag for all your travels and adventures. Motorcycle luggage tend to cost a bit. These duffels have more uses than just being a bike use-only article.
Why a duffle bag?
Fits on any motorcycle rear rack or back seat. 

Easy to remove and carry around. 

Packs easy with the wide mouth and when needing to add a few beers in the afternoon on the way to a camp site.

Easy to reach and keep rain suits at hand.

They are

waterproof and dustproof

.

Waterproof duffel are easy to fix with PVC glue and a patch. Unlike metal top boxes.

Pack all the light weight gear in the duffel bag to keep heavy weight equipment low down in the panniers. 

Flexibility

when fastening to the bike. 

Best of all it is makes for a great washing bag or can be used when stuffed as a pillow. 

40L and 50L sizes are the most suited. 

Great for carrying camping equipment like a tent, chair, and sleeping stuff in one bag. No worries of losing equipment while riding.

Not just a bike bag. Many motorcycle specific bags cost quite a bit. These duffel bags can be used for any type of adventure. They are very useful as carry on luggage when flying. 
Carry the odd 6 pack beer to a camp site from a shop, and best of all, it's waterproof and dust proof. We have found a 40L or 50L wide mouth duffel can carry what is needed and is just big enough not to add too much weight higher up on the motorcycle. ATG Duffel bags
Tank bags.

 
There are a million  shapes and sizes. Some brands cost as much as a
Louis Vuitton bag, not that they look the part or make you feel any more special. The size and shape is a personal choice and also dependent on the shape of the tank of the motorcycle.
We found the cheapies works well, bar the zips and normally the waterproof covers never last that long. That said the Touratech  bag we got as a present from our German friends after the other German brand failed on us did the job quite well. Keep the size small and lightweight! Big bulky bags is a drag to carry around and sit like a suitcase between your legs.
It is easy to fit an electric socket inside to charge batteries and such.
Charging and auxiliary electrical  points:
To the left, this is rubbish, try and avoid using Hella style and the old cigarette type connectors to power your pump or camp light and such items.
They corrode easy, bend, break for nothing and pins never make proper contact. Throw the shit away! Most of their uses are inside cars, trailers or caravans. On motorcycles they are exposed to the elements.
 The picture below is the SAE connectors below. Much more durable. Will not short circuit. They will still make contact even when a bit corroded and the quality is generally good. Attached directly to the battery with an inline 15Amp fuse or whatever your liking. Use the same connector on the air pump, camping LED light, battery charger to connect to this one.
The SAE can also connect to any choice of tankbags with an inexpensive kit like this. 
Motorcycle saddle bag frames:
Well made saddle frames work well with the saddlebags. Keep them in place and offer good support. There are many aftermarket brands available for most brands of motorcycles. The frames are different for use with aluminium panniers.
They do not need to be as heavy or robust built to carry the weight of aluminium panniers. The frames purpose are to support the bags and keep them away from the body work or exhaust. Local companies produce lightweight frames at decent prices.
Trtecadventure
Motorcycle hard parts:
Crash protection and engine protection are a big part of the process when preparing a motorcycle for adventure and overland travel. Most bikes are fitted standard with handlebar protectors and some flimsy dodgy engine protection covers. The BMW OEM hand guards are on the soft side and there's no fun in riding with broken clutch or brake levers. Acerbis, Barkbusters as example are great brands as example. There are many brands offering hard parts for motorcycles, it's best to choose brands that actually design and have a reputation and history with off road use. Using inferior bike protection can end a trip premature and end in a costly affair.
The biggest single weight adding exercise is going overboard with farkles like these. The cost can also make a huge dent in a budget. These are some companies with well priced products:
Trtecadventure  Warp9racing
Some of the most important add-on's: 
Crashbars.

Bashplate.

Handguards.

Wind-protection.

Wider and more comfortable footpegs
Take your time, do the homework and be very careful and particular not to over pimp and overspend on the bike. There are no need to go buy  the entire range in the Touratech catalogue. People realise quickly into a trip they need much less stuff than they thought necessary.
Keep it simple, keep it minimalist.
PS: We are not sponsored, the products listed we have used and are happy to share the info.