Mexican Cowboys and Señoritas.
This is not your average cowboy rodeo event. This photo essay captures the drama of the sport Charreria best described as traditional Mexican horsemanship. It's a fast-paced sport packed with action and passion.
According to some folk, Guadalajara has the oldest lienzo, (arena) and charro (cowboy) associations in Mexico. Jalisco has been the host for more national charro and Charrería championship competitions than any other state in Mexico.
Being in Guadalajara our local friend Oscar and his charming girlfriend Angeles offered to take us to the semifinals event. This was the Mexican National Charro Championship, held as part of the International Mariachi and Charreria Festival each September. The best mariachis and charros from around the world gather to show off their skills.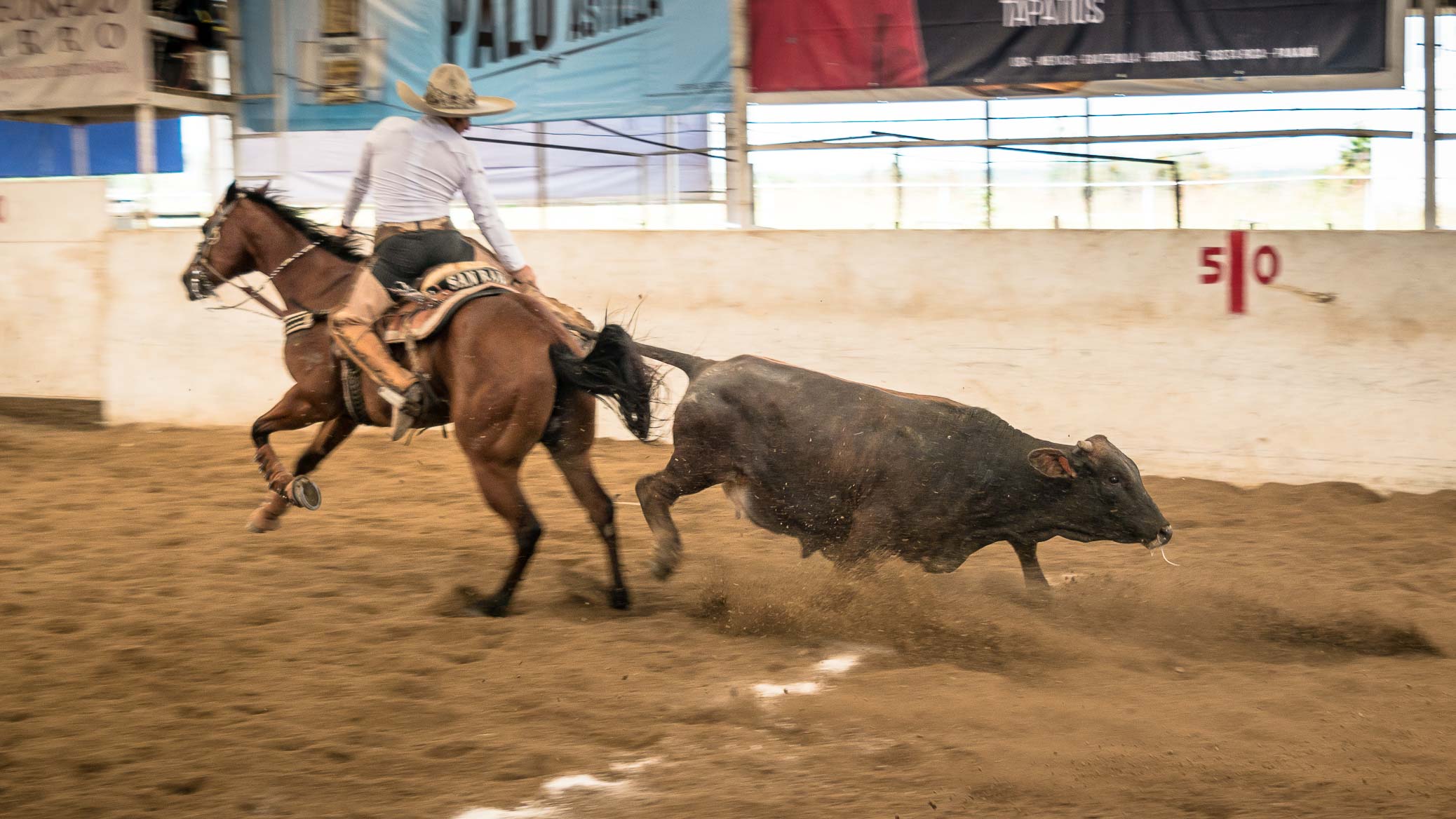 It is a lively, noisy, social affair with brightly coloured dresses and charro suits. Different Mariachi bands play music the entire 9 hours of the event, One direction has bugger all on these musicians! The food stalls were a buzz of activity with vendors walking around selling Tequila mix drinks, beers and everything else to keep the thirst away. The food is like all Mexican food, bloody amazing and tasty!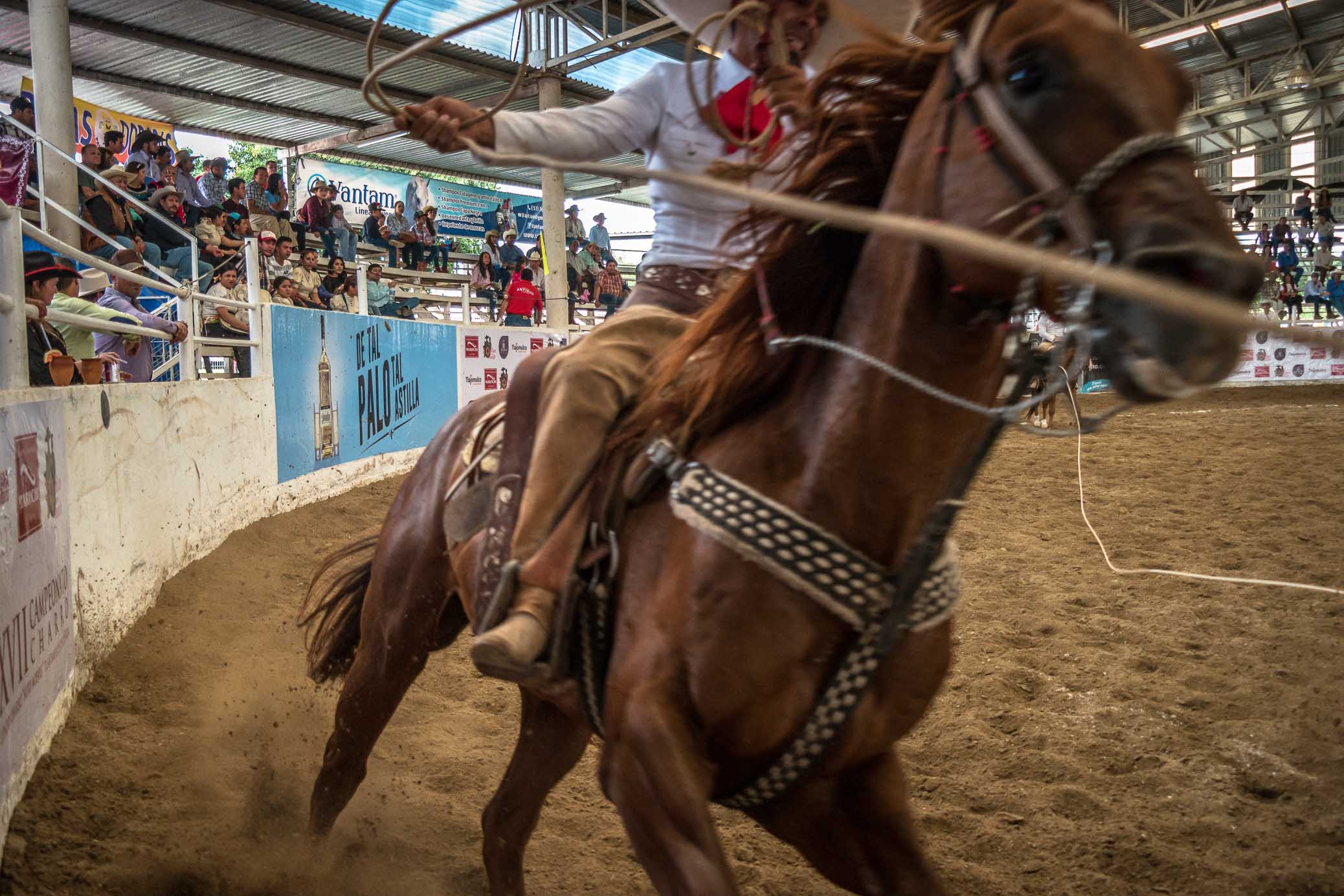 Charreadas  is a Mexican traditional competition that tests a charro's lassoing, wild-bull riding, and horse-control skills to the limit.
The history and culture goes back to the 17th and 18th centuries and has evolved over time into this sport. It originated from farm-hands working with cattle and horses or vaqueros or rancheros competing against each to test their skills.
Todays Charreada came after the Mexican Revolution as charro traditions were disappearing due to urbanisation and other influences. The competing charros mostly come from families with a tradition of Charreria.  Teams today are often made up from extended families that have been competing for generations.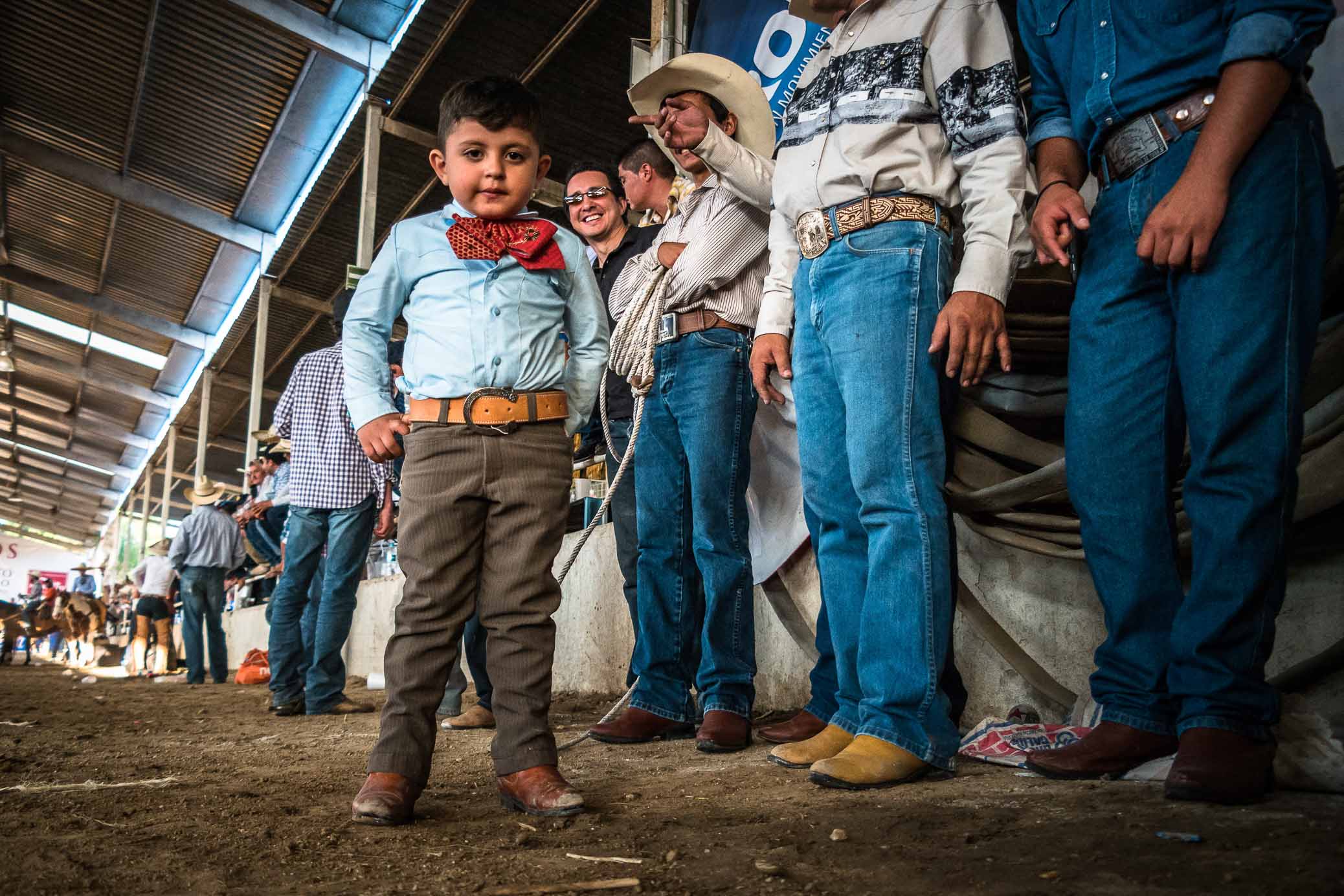 Eventually it developed into a competition when neighbouring haciendas (farms) would come together with their cows and horses to sell or for branding. In addition, the hosting haciendado was presented with the opportunity of showing their hospitality, for allowing people to meet, dance and party.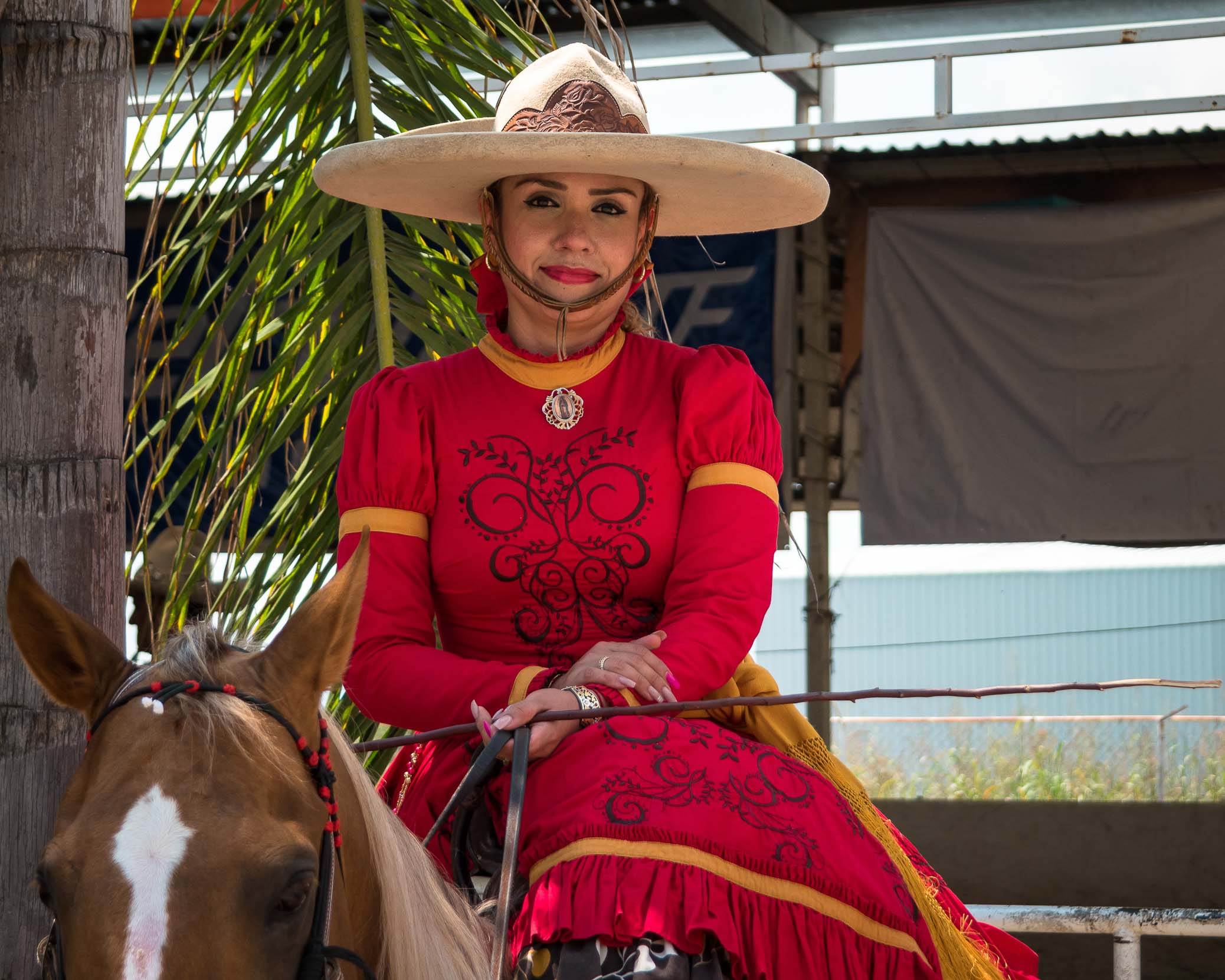 The original competitions tested abilities such as  lassoing horses and bulls, breaking in wild horses and catching runaway bulls. From the nine tests for modern day charrería, only bull-riding and the paso del muerte (step of death) – jumping from one horse to another while riding are not everyday farm work and came about to exhibit a bit more flair and showmanship.
Being a charro and dressing as a charro is a matter of pride and honour and is taken quite seriously. It is partly due to the heritage of wars fought for independence and the humble heritage of the people that there is such a strong bond to the legacy.
And don't think the charro attire is just some fancy swagger 'pimp my style' clothing. The main creators of this Mexican cowboy attire were rural women; most are handmade and beautifully stitched. There are strict rules and the dress code is part of the Charreria event.
The rope or lasso is a special type of rope  that is quite costly. They are kept in special bags and only used when competing.
Strange as it may be, and many people say it's animal abuse, but the charros and everybody involved in the sport are pure animal lovers. To be a charro is not just the occasional weekend quick saddling up of a horse on a Saturday, throw back a few tequilas and show some redneck look at me while you hold my beer type of thing. It's a serious thing and the animal issue is contentious. I do not have enough information to even begin offering an opinion, and I don't want to. There is enough on the internet and Wiki articles about these events and the issues around it for each to make up their own opinion.
Our aim is to convey what is in the world and our experiences while travelling. What is normal to us is not normal to others and vice versa. Some events, cultures and beliefs might not be what we are accustomed to, but that does not make it right or wrong. That is why we travel, why we seek to experience as much of this world, its cultures and people as we can. We try and experience the cultures and beliefs without passing judgement.
These charros and girls are professionals and they are super in-tune with the animals and horses. They are athletes who follow strict training routines. Their feeling for the horse must be spot on and they pay much attention to what the horse does and how it reacts. The horses are extremely well trained to perform with the rider as they do. Charreria is a way of life for them, treating animals with respect and care, not just a Saturday fun ride. Kids start at a young age mastering the skills of lazo or roping and caring for the horses.
It is a dangerous sport and people and animals can get hurt or killed.

But from our point of view, the rules, the way it is done, is all in such a way that the safety for animals and riders are a priority.
Back in the day, the charros were considered bandits and criminals but that has changed. American Clint Eastwood type movies and Mexican movies have helped change that view. Today Charreria is not an amateur sport anymore, it's a proper professional sport and there are even Americans teams competing.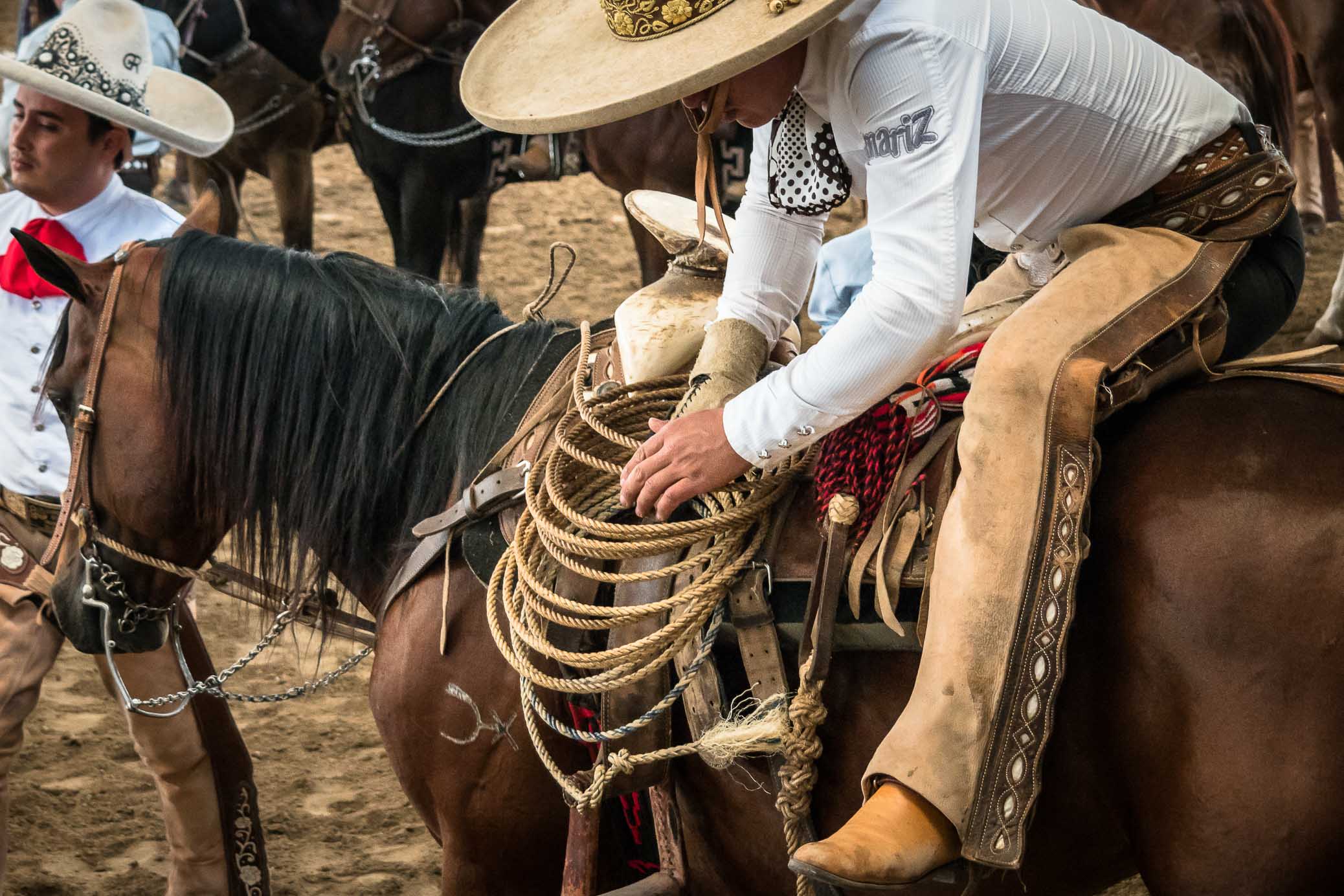 Piales en Lienzo (Heeling); a horseman must throw a lariat; let a horse run through the loop, catching it by the hind legs.
Colas en el Lienzo, or Coleadero (Steer Tailing) similar to bull dogging except that the rider does not dismount; the charro rides alongside the left side of the bull, wraps its tail around his right leg, and tries to bring the bull down in a roll as he rides past it.
Jineteo de Toro (Bull riding) similar to the rodeo event. Bulls are smaller, between 990 and 1320 pounds, and are ridden until they stop bucking. The charro cannot fall off; he must dismount and land upright.
Terna en el Ruedo (Team Roping); a team roping event in which three charros attempt to rope a bull – one by its neck, one by its hind legs, and the last then ties its feet together.
Jineteo de Yegua (Bareback on a wild mare); similar to Bareback bronc riding. Yegua means mare. An untrained horse, often a mare, is ridden with a bullrope.
Manganas a Pie (Forefooting) a charro on foot (pie) has three opportunities to rope a horse by its front legs and cause it to fall and roll once. The horse, usually a mare, is chased around the ring by three mounted charros or hazers. Extra points are given for the tirón del ahorcado (hanged pull) in which the rope is around the charro's neck, like a noose, and he uses his body to cause the mare to fall and roll.
Manganas a Caballo or (Forefooting on Horseback) a charro on horseback has three opportunities to rope a horse by its front legs. In the USA, the horses are not rolled; they are released as soon as they are roped. But elsewhere, the goal is to have the horse fall and roll once. The horse is chased around the ring by three mounted charros.
El Paso de la Muerte (The pass of death) a charro riding bareback, with reins, attempts to leap from his own horse to the bare back of a loose, unbroken horse without reins and ride it until it stops bucking. The most dangerous part of this is if the charro performing the pass falls under three other mounted charros that are chasing the loose horse round the arena ring.
Escaramuza (English: "skirmish") Since the 1950's, this breath-taking event adds beauty and elegance to the Charreada. During this event a team of 8-12 women riding sidesaddle and dressed in colorful Adelita dresses perform a variety of precision riding techniques. Years of training by the rulebook make this event art, sport, and an extension of the culture that is Charreria. It is usually held between the Coleadero and the Jineteo de Toro.
It is an exhilarating event to witness and to see humans and animals perform with such skills.
There's much to be said for this kind of authentic culture, sport and way of life that most people in the world living in cities and urban areas never experience or maybe not understand.