As we worked our way down the West coast of the USA we were warned by Americans to take great care riding and travelling in Mexico. Mexico is generally perceived as a drug and death cesspit by many Americans. It was therefore with a bit of apprehension that we entered Baja California through Mexicali, a less busy bor- der post 200km inland. With so many people advising such bad omens for the country it cannot be good. Like all other places, the reason we travel is to go and see for ourselves. Our perception of Mexico was visions of dusty cacti deserts, Tequila, drugs, old rusted pickup trucks with dudes wearing sombrero hats. In one word… we were just plain WRONG.

Baja California:
Baja California, well known for the Baja 1000 racing, buggies and cacti, welcomed us with dramatic sunrises over the Sea of Cortez, heat wave induced desert landscapes, a rich marine life and a very laid back rustic way of life. Rules seemed to be generally considered mere suggestions and the lifestyle offered a bit more freedom to do silly things. Baja somehow follows an air of isolation, divorced from the rest of Mexico.
Baja offers some of the most beautiful and secluded beaches to wild camp or you could pop up your tent between the 'Dr Seuss' trees. If your view of Baja is that of dry deserts, cacti, criminals and drug dealers you are sorely mistaken. We followed two small back roads, more like tracks and some fun sand monster tracks thrown in to keep our focus sharp, this lead to beaches with turquoise waters perfect for a quick skinny dip! We passed cave paintings, crumbling old Spanish missions and rode in a desert with spectacular cacti reaching 20-30m into the air. Tiny villages ooze with dodgy bars and talkative locals.
One of the 'must stop' places is the legendary Coco's Corner in the craggy back- country near San Felipe northern Baja, especially for the adventure riding crowd. At the entrance to this Star Wars look-a-like place old beer cans are strung together and fashioned into Coco's entrance signage blowing lazily back and forth in the dry desert wind. Coco's Corner is a bizarre oddity of obligatory travel, racing and man cave stickers, motley t-shirts and even oversized woman' underpants as decorations. Coco greeted us with a "Where are you from? Where are you going?"
He is a soft-spoken old man with a bad case of diabetes. He lost both his lower legs and scrabbles around on his knees which are tied up with leather pieces, but this does not stop his verve for life. He offered us some beers and invited us to sign his visitors' book. Coco's place is an example of time standing.
Still in a hyper fast world, it is an institution to adventurers, an oasis to take a break from the rush of the world or after a day' hard travelling.
There are myriad campsites along the coast line and even spots to wild camp. Most of the campsites offer palm leaf covered palapas (thatched roof shelter). We based ourselves for a week in Baia de Los Angeles a scenic fishing village located halfway down the Baja California Peninsula. The "Bay of the Angels" sits against a desert and the Sea of Cortez. The bay spoiled us with spectacular sunrises and sightings of the gentle giants, the whale sharks. Camp Archelon is a well-run camp- site and we ate ceviche prepared by a group of Mexican hunters and fishermen. Made from freshly caught, raw fish cured in lemon juice, spiced with peppers, finely chopped onions, tomatoes, cilantro and salt. On the side we tasted some of the best regional Baja wine and toasted on the Mexican beer brands like Tacate, Pacifica, Del Sol and Victoria.
Every now and then there are small roadside jewels distracting us, forcing us to pull over. Just before Puertecitos is a groovy roadside bar called 'The Cowpatty' where you can order beer and hotdogs, and that is it! The owner is a real friendly leathered, chap. Puertecitos, about 90 kilometres south of San Felipe has unique hot springs in the sea. It's such a 'hippy feeling' place we camped out for a few days with only a few 'brave' Americans, a Ukrainian bookseller and a Russian artist around. Sitting in the ocean in hotter than hot water is quite a weird feeling. It feels unnatural but also very therapeutic; especially with a few beers to make sure one is always hydrated.
The kindness of strangers keeps surprising us. We were invited by a South African and an Aussie couple to stay with them in Loreto for a few days, a welcoming chance to escape the heat and wash some clothing. Loreto, one of the oldest settlements in the Baja, takes you back into the Mexico of legends. An amazing history rich town spotted with old Spanish colonial buildings and churches. It's the perfect place to go back in time, to the 1800's
Copper Canyon:
After three weeks and just over 1400km we got onto the ferry from La Paz to Topolobango, we had to cross the peninsula to get to mainland Mexico. We wanted to cross the Copper Canyon with all its mind blowing scenic beauty. It's one of those places where it is important to get fresh updates of what's happening in the area. It's important to get fist hand information from the locals if it is safe and passable. The tension between rival narcos and flooding of rivers can make this a very dangerous and treacherous area, but also one of the biggest highlights of our bike travels so far in Northern America.

Rivers can be in flood or roads washed away and with the lack of fuel, can turn a normal excursion into an epic adventure. Case in point, we nearly offered our bikes to a river between Tubares and Batopiles as the bridge had long gone been washed away by a previous flood. As we followed a dirt track, made passable by using a GPS track that an old visitor to the area offered us, in confidence to keep for ourselves. Because of his marvellous gift we were able to properly experience the magnitude of the Copper Canyon in the Sierra Madre Occidental Mountains. Overall The Copper Canyon is actually bigger than the Grand Canyon in the USA if all its parts of the system are taken into account.

Batopilas is a colourful colonial quaint little town in the heart of the Copper canyon. It's a peaceful little place with old people and a river running passes it no sign of unrest from the past. From Batopilas we followed a 'Jeep' track running up and down the side of the mountain. At places we could not even stop for photos as it was too steep. The pass climbed from about 200 meters to 2000 meters in less than 15 kilometres, pretty engaged riding though. I do not have the luxury of the English language to properly express and describe the feelings and views standing there staring over the magnitude of the canyon.

The Grand Canyon was good but this was mind blowing stuff that numbs the senses. Most of the track seemed to not be in use anymore, but with a 4×4 or bike it was doable. We crossed numerous rivers, passed many small farms but saw almost nobody around. It must have been and probably for the few folk left, a brutal living. Adventure bike riding nirvana.
A very profound feeling is to look out over the magnificent views and know that not many people in the world will experience and behold the beauty. The normal tourist dragging a wheeled suite case and a Starbucks will never see that. It's special to be able to pack away such special memories.
Mexico Mainland:
The beauty about Mexico is to visit and explore old colonial towns with stunning cultural and historical sightings in a really small area of riding. Real de Catorce is one such village, located in the heart of the Catorce mountain range, in the state of San Luis Potosi. A small, still authentic, old-world town with steep cobblestone streets, hidden cafes and restaurants. It's an old mining town 1500 meter above sea level. The almost 14 kilometres of cobblestone 'highway' makes for interesting motorcycle travel. Tourism has had a profound impact on the town but in a good way and it is still not overrun by tourists. It had the effect that the town and it's beautiful culture and history has been preserved.
In the area the towns of Zacatecas, Guanajuato and San Miguel de Allende are all old authentic places. The wonderful old tradition of people coming together in the town squares in the evening, spending time with friends and family is such a pleasure to experience. And it is still part of the Mexican culture.


Sundays are amazing in Mexico. The town squares and chapels come alive. During the day the young practice their skills from skateboarding, hula-hooping to photography while the entrepreneurial and artistic spirits display their talents. Late in the evening you find young modern dancers wiggling and spinning sweating bodies while the folk dancing couples dressed with passion sway sugary in tune with jarabe, one of the most traditional mariachi genres.
You will not go hungry, there are elotes (corn on cob), tamales (food steamed in banana leaves), tortas (wicked sandwiches), quesadillas, and of course lots of tacos! Your sweet tooth will also have a feast with the variety from churros (baked sweet treat with cinnamon sugar), fruity paletas (popsicles), to baked goods and flans. Thirsty?
Do try the aguas frescas – ice cold, fruity soft drinks.
Our 'touristy' choice for Día de Muertos (Day of the Dead) festivities was San Miguel de Allende. It's a place that takes one back in time to early Spanish times in.
Mexico and where the church and main plaza are a buzz with activities. The place is surrounded with restaurants and bars to relax in offering tequila and beer.
Coastal Mexico:
Mexico is not just deserts and catci, there are mountain ranges and old volcanic mountains reaching thousands of meters into the air. We rode to the coast via the Devil's backbone which is a crazy 300km twisty road between Durango and Mazatlan. As asphalt roads go this one must be one of the best out there.
They have a new toll highway between Durango and Mazatlan and one record breaking bridge. But that is all useless when you can carve the twisties on a narrow old road. As much as Europe offers some of the best motorcycle engaging roads, Mexico offers as much and with less traffic.
Along the West coast of mainland Mexico you would be forgiven for thinking you are sipping Margaritas on an island somewhere in the Bahamas. The coast is covered with high palms, thick vegetation and is warm almost all year round.
Sayulita is one such town, it is a bit touristy and has two sides to it, the more quiet, weed smoking, beer drinking side and then over the bridge, the tourist side with vendors and a fully packed beach.

Mexico is just the opposite of what we were told and sold. Mexico is a mix of 1st world and 3rd world. Mexico has all the characteristics of a suave Europe or USA but still offers a laid back "do what you want, Africa type vibe". No Mexico is not a drug den. No Mexico is not unsafe to travel. No Mexico is not some back end, poor arse, dirt ridden country. Mexico is a wonderful place to explore and visit!

There's so many beach stops along the Mexican West coast from Mazatlan to Acapulco and most are easy going low key establishments.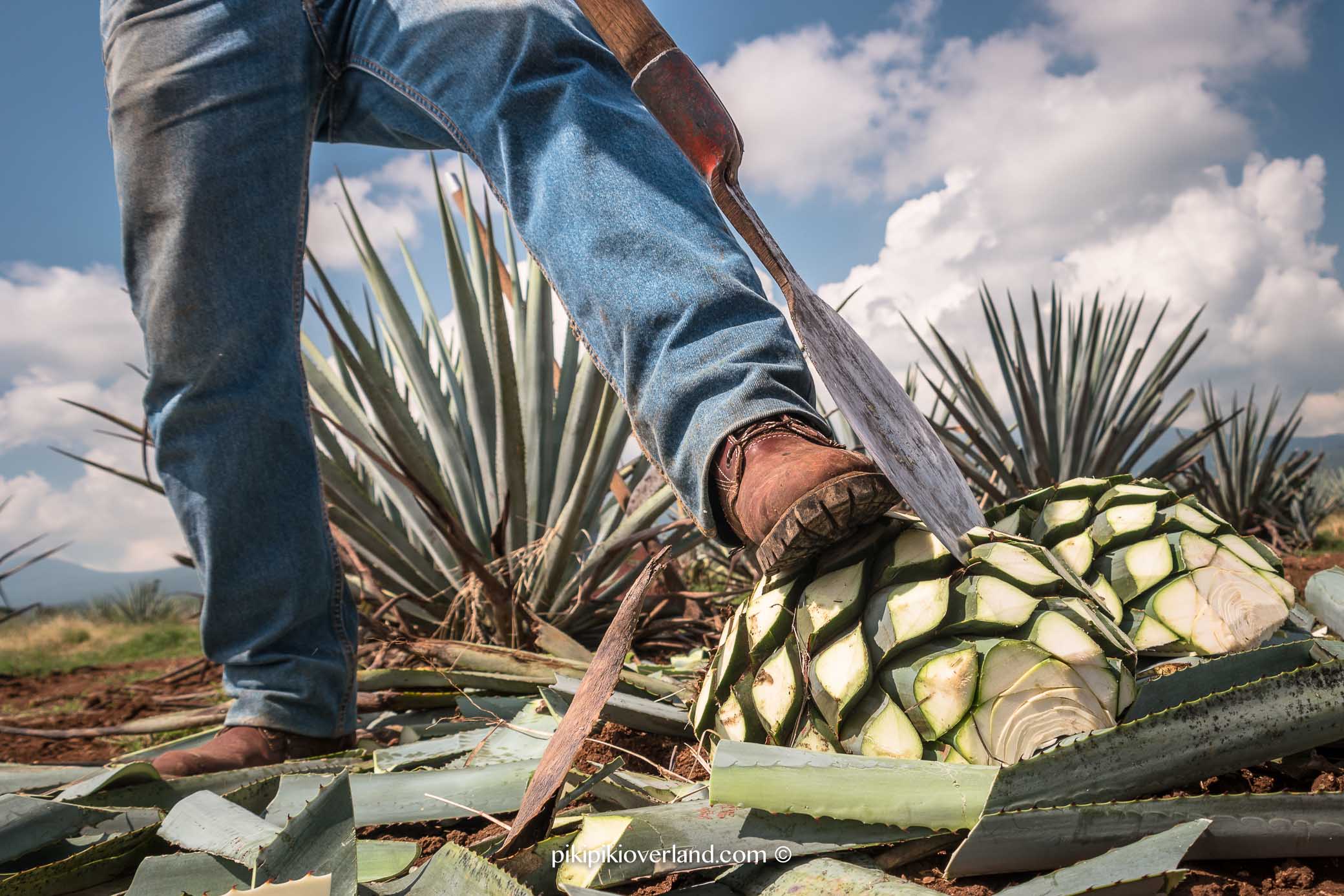 Boca de Pascuales, a legendary surf spot that attracts the best surf boarders from around the world, and strictly for experienced surfers. It's a place where we could not help but stay over for a week to marvel at the skilled surfers braving 3m -5m high waves ending in perfect barrels.
The locals and overseas surfers are all easy-going and relaxed, if you do not take care you could stay quite a while.
Most importantly, the people of Mexico we found were sociable, friendly, warm hearted with a calm and laid back attitude towards life. They always seem happy and friendly to chat and interact.
They would invite us to eat with them, drink a beer or just sit and chat. People are what makes a country great. Mexico is a stun- ning country and it's due to the people!

We have been travelling Mexico for about 6 months and can honestly say we are more than surprised and impressed with this cultural and flourishing country. Mexicans should not be worried about the wall Trump wants to build … they should build their own to preserve the fantastic culture they have.
Mexico is alive, viva Mexico!